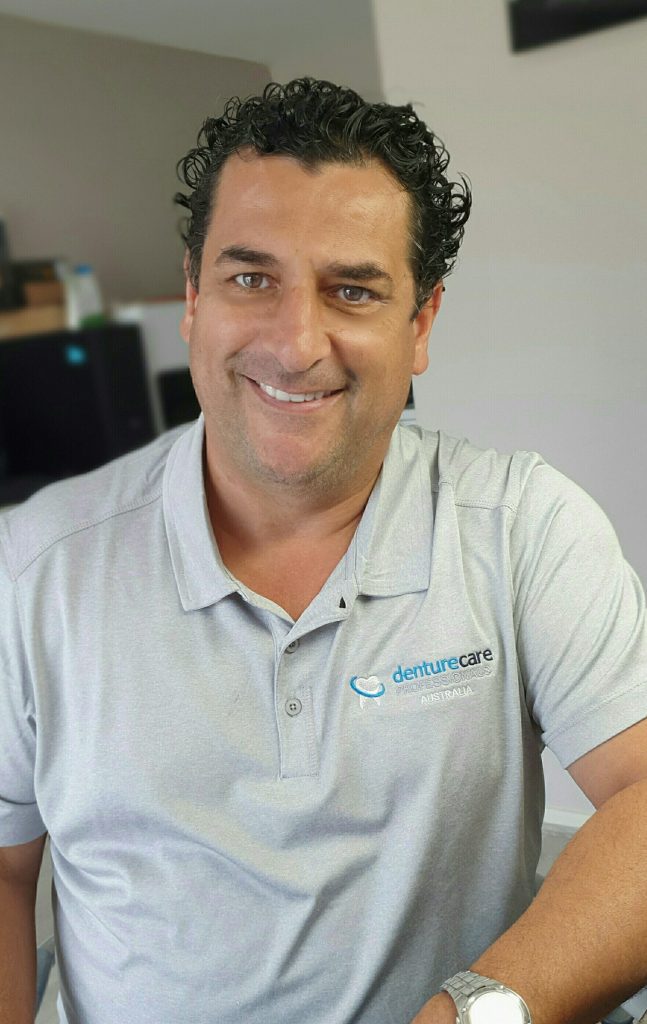 Meet Shaun Strang – your Dental Prosthetist at DCPA – Gold Coast Dentures, and Denture Repairs
Registered with the Dental Board of Australia – Registration Number: DEN000127890 Medicare Provider Number: 4147542L
Your friendly Dental Prosthetist, Shaun Strang started working in the dental industry in June 1987. He was born in, and grew up in, his hometown of Dunfermline, Scotland where he attended St Columba's High School.
Attending Edinburgh Telford he completed his City & Guilds London Certificate in 1992 after serving a five year apprenticeship.
He continued to work within the NHS and Private sector in Scotland for 5 more years eventually managing the denture department in a dental practice with 7 full time Dentists before emigrating to Australia in 1997 . Having gained Business Sponsorship with permanent residency in Australia he worked in a commercial dental laboratory in Sydney for 7 yrs. He then enrolled at Sydney Dental Hospital and undertook a comprehensive 2 year Advanced Clinical Diploma to complete his training as a Dental Prosthetist.
He qualified with Distinction from Sydney Dental Hospital in December 2008 and opened his own Dental Laboratory and Clinic shortly afterwards in Sydneys CBD.
Moving to the Gold Coast in January 2012 and the opening of DentureCare Professionals Australia in Robina has been a long term ambition. "I always wanted to move to QLD and experience a sub tropical climate with beaches and country living nestled right next to each other. I love living here and have settled in very well right in the heart of Tallebudgera Valley."
"My mother worked in Aged Healthcare all her life. I loved meeting her patients and remember them fondly. I did spent lots of time with them as a child and then as a teenager… that's where I first experienced healthcare and what it meant… it's where it all started for me really".
Since 2005 Shaun has attended annual seminars and workshops undertaking TMD Diagnosis and Treatment relating specifically to the Jaw Joint, Oro-Facial Pain , Sleep and Airway and now integrates this learning into his general practice. "Every patient i see is actively screened for O.S.A. (Obstructive Sleep Apnea), Snoring and Upper Airway Resistance."
"We pay particular attention to how your jaw joint functions and can improve your airway at the same time. The jaw joint is the only dual component in our body so it really deserves proper attention when making dentures otherwise the body will react and soft tissue changes can and will affect airway. This is most commonly experienced at night time hence the screening for Sleep".
"The net result is denture fabrication that is completely in harmony with your body. Proper Physiologic positioning of the jaw joint has an incredible effect on the system as a whole and is so often overlooked".
Outside of work Shaun spends most weekends gardening with his wife Jade, looking after their Bees, Chickens, Ducks and miniature Goats.
Shaun loves to play golf and soccer. When he was younger he played soccer professionally in his native Scotland for Dunfermline Athletic, Raith Rovers and the Irish club Cliftonville F.C. .Shaun has the distinction of scoring the first goal in European Competition for Cliftonville FC against Haifa Halpoel in Israel during the 1996 Inter Toto Cup!
If you have any questions regarding your Sleep or Airway Shaun is happy to help and will help guide you to the appropriate people ." Please don't be afraid to ask questions… I'm here to help you…."