Your Chrome Cobalt Denture
Cobalt Chrome dentures have a metal base plate or framework that sits on and around the natural teeth onto which denture teeth are attached by acrylic.
How they Work? Stability (not rocking) and retention (grip) come from the metal framework gripping the natural teeth so will be affected by both the number and position of your remaining teeth.
The metal component (the frame itself) of your denture design is critical. Adequate time will be spent on the planning and preparing the model teeth to make sure your denture has the best possible fit, grip and resistance to your chewing forces.
Chrome Cobalt frameworks can be 'tooth borne', (supported only by your teeth) which is the most preferred situation or where possible 'tooth and mucosal borne', meaning supported by both teeth and mucosa.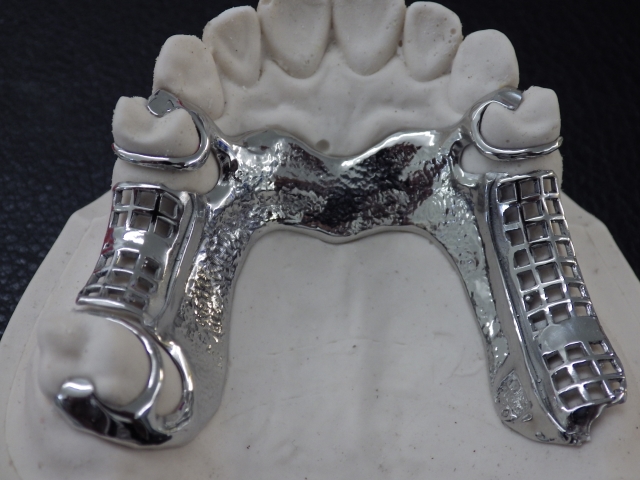 Why should i have a Chrome Cobalt framework in my denture design?
Most comfortable to wear
Easiest to adapt to
Smaller, thinner and more streamlined
The best grip (retention)
Best chewing experience
The most hygienic
Very close fitting and precise
Are designed specific to each mouth- numerous features can be incorporated to improve the denture.
Can be used with precision attachments for extra superior retention
Very strong and long lasting
Patients have increased confidence wearing them.
Clasps/Clips can be easily tightened to increase the grip/fit capability.
What are their Disadvantages?
More expensive initially and when any changes need to be made.
Some changes are difficult to do, (such as adding teeth, changing clasp position when teeth are lost)- this depends on the initial design and a remake is occasionally needed
Problems with natural teeth (such as fractured fillings, broken teeth, damaged crowns) will affect the fit of the framework
Can be bent out of shape if sat on and will need to be remade
Are made of metal which may be visible. We do offer the inclusion of tooth coloured clasping to provide a more aesthetic look.
Detailed impression techniques are required before construction so
Best Situations?
Where the mouth is unlikely to change
Where you have suitable natural teeth with a good prognosis
In patients where muscle control is compromised
The best denture in the lower jaw
Good for patients with a gag reflex due to their size and close fit.