Implant Retained
Are you tired of loose dentures affecting your ability to chew and smile? Implant retained dentures can be the answer to all your worries so you no longer have to withstand prosthetics that move.
At our Denture Clinic we ensure that our patients receive comfortable and suitably designed prosthetics that are made to fit. Together with Implant placement your dentures will gain added stability that traditional dentures cant offer.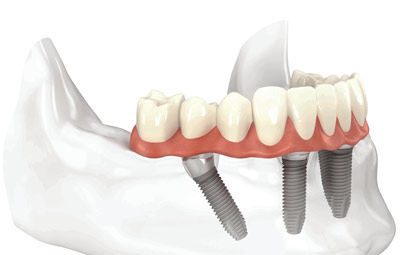 Denture secured by implants
Implant retained dentures use fixed components to secure the denture to the maxilla(top) or mandible(bottom) jaw and prevent any denture movement during function. This includes chewing food, speaking or even smiling. These are most suitable for patients with common lower denture instability and are recommended as the most preferred way to fix this problem. We can also modify your current dentures to accommodate New Implant Placement.
With over twenty five years experience in this field of practice we provide:
Invaluable solutions for this type of treatment;
The use of our referral network in this field and the benefit of having a seamless transition to an Implant Retained Prostheses allowing you to keep your costs down and benefit from trusted results time after time;
Our after care program provides you with regular check ups and assessment of your Implant Denture. All our Implant Retained Dentures have metal frameworks or substructures inside them for optimum strength.
Not every patient is suitable for Implant placement however due to disease and medications (Osteoporosis and Diabetics) as the bone cannot integrate fully with the Titanium bone insert causing failure. We will work all this out with you through careful assessment and evaluation prior to treatment.
Bone shrinkage and bone loss (Bone Resorption)
Through time and as you become older your bone shrinks from its original size. If a substantial amount of bone has receded, the bone may not be able to support a denture well. This is where Implants can provide a wonderful solution. We are constantly looking out for these issues and will keep you abreast of any impending work required, normally Relining. Every patient will be recalled annually for Relining of their denture when Implant Overdentures are issued as part of our Care Program. This ensures the denture is Implant Retained and not Implant Supported due to the continuous resorption of your bone. This applies to both Upper and Lower ridges but more so the Lower.
Costs
There are extra costs involved in Implant Overdenture Treatment that will be discussed during your initial visit. This includes surgery procedure, components and ongoing care. With the help of our trusted referral network and industry colleagues we can offer you a significantly reduced pricing schedule that will not only keep costs down but ensure your treatment is of the highest standard. Come in today and benefit from over twenty five years of industry experience.
Advantages of implant retained dentures include:
Secure and comfortable;
Restores function and increases ability to chew food;
Feels like you have regained Natural Teeth through proprioception;
Increases self confidence;
Eliminates loose denture concerns;
For more information on implant retained dentures, contact our team of professionals today. (07) 3067 6026